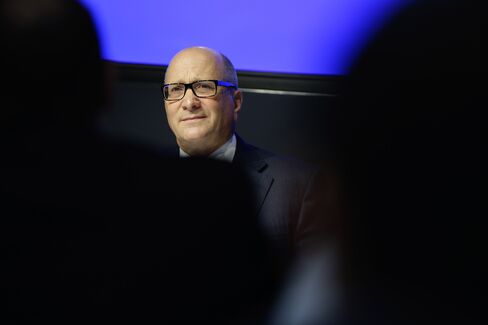 General Electric Co.'s GE Aviation CEO David Joyce speaks during the Paris Air Show in Paris. Photographer: Jason Alden/Bloomberg

As aviation leaders mingle in Paris for the industry's largest expo, much of the talk centers on a Boeing Co. plane nicknamed "Mom" that doesn't even exist yet.
The tag is an acronym used internally at Boeing for "middle of market," a jet that would be sized to fit between current single- and twin-aisle offerings and succeed the discontinued 757.
No matter that it wouldn't be in service until the 2020s. Just the promise of the first all-new Boeing since the 787 Dreamliner is enough to generate a Paris Air Show buzz, especially with product introductions noticeably absent this year. Lessors, engine makers, airlines and Airbus Group SE are all chiming in on the potential benefits and pitfalls.
"I would argue that certainly there's a market there," said David Joyce, chief executive officer of General Electric Co.'s GE Aviation, which is "working on some technologies and some capabilities" for a 757-class plane.
As now envisioned, the jet would seat about 220 people and fly 4,500 nautical miles (8,300 kilometers), according to Mike Sinnett, Boeing's vice president for product development. That load and range -- farther than a flight between Houston and London -- would be upgrades of roughly 20 percent over a narrow-body 757.
"You don't have to have a single-aisle plane to have single-aisle economics," Sinnett said.
Old Favorite
The old plane went out of production a decade ago but remains cherished by some airlines for use on U.S. transcontinental trips and long-haul routes too thinly traveled to justify a bigger aircraft. A new jet would benefit from advances in aerodynamics, structures and engines unavailable on the earlier model, Sinnett said.
Potential customers like Air Lease Corp. CEO Steven Udvar-Hazy are helping Boeing decide on details such as having one or two aisles, Sinnett said Wednesday in an interview at the air show. A pair of aisles would eliminate middle seats in a six-abreast cabin, creating speedier boarding and unloading.
"Boeing is well aware of our requirements," said Udvar-Hazy, the self-described godfather of jetliner leasing.
Getting Ready
"We're continuing to prepare ourselves for that day, should it occur," Scott Fancher, the Boeing's airplane development chief, said Wednesday.
The sales potential is strong, but Chicago-based Boeing won't share its market estimates, according to Randy Tinseth, vice president of marketing and sales. Airbus has pegged potential demand in the middle-of-the-market category at about 1,000 jets -- and attacked Boeing on the flank left open when it dropped the 757.
Airbus added wing fins dubbed sharklets on the largest single-aisle model, the A321, to extend its range. It created the A321neo Long-Range, featuring an extra fuel tank, and updated its smallest wide-body, the A330, to boost efficiency. It's not above crowing about the changes.
"Competition is so strong from us between the A330neo and the A321 that Boeing knows it doesn't have anything to go up against that," said Kiran Rao, director of strategy at Airbus. "They're having to think about doing something new."
Mom Aircraft
Boeing has been publicly tiptoeing toward the idea of a 757 successor for years while cautioning that any new aircraft would borrow from existing models and not, as CEO Jim McNerney said last year, be a bet on "moon-shot" breakthroughs.
The challenge: How many airlines would pay a premium for new engines and operating efficiencies over the upgraded A321s? Even when the 757 was being built, Boeing found many buyers made do with either its largest 737 jet or a small wide-body, squeezing the room to sell a Mom aircraft.
"You have to make sure if you do build an airplane like this that it's not over-engineered and therefore overpriced," said CEO Aengus Kelly of lessor AerCap Holdings NV. "It's not a long-range airplane. It's not going to be a traditional wide-body aircraft, so you can't charge those prices."
Even if Boeing were ready to commit now, development running into the next decade would ensure more air-show gossip and speculation.
Just crafting an engine for the new Boeing probably would take five years, said Safran SA CEO Philippe Petitcolin, whose company is a partner with GE in engine-maker CFM International.
"I don't think we are that close to a decision, not in the next 18 months to two years," Petitcolin said. "We are in the early, early stages."