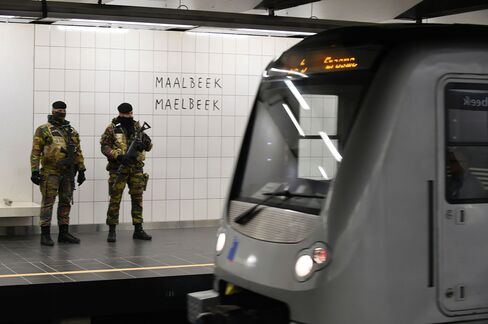 Soldiers stand guard at the Maelbeek - Maalbeek metro station on its re-opening day, in Brussels, on April 25, 2016.
Review of terrorist database shows many attempts over decade

Transportation remains an alluring target for terrorists
Until the bombings in March that killed 35 people in Brussels, there hadn't been a terror attack with mass casualties on a transportation hub in a western nation in a decade.
But it wasn't for lack of trying.
A Bloomberg News review of a terrorism database reveals scores of attempted bombings, shootings and other attacks on airlines, railroads and bus lines in the U.S., Canada and western Europe in recent years. The record demonstrates the enduring lure that transportation holds for terror groups -- and is a grim marker of what to expect in the future, according to experts.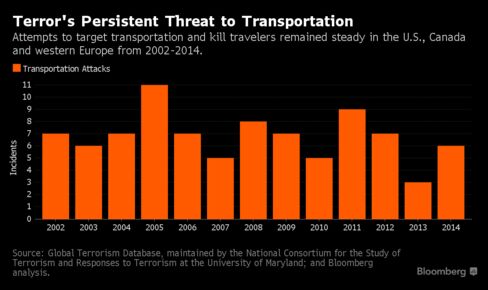 "I have great fears about the way we're going," said John Halinski, a former deputy administrator at the U.S. Transportation Security Administration who is now a security consultant. "Nobody is really getting attention to the number of attacks."
Terrorist Ineptitude
The lack of recent deaths in terrorist assaults on transportation in those Western nations -- only four from 2006 through 2014 -- might lead the public to believe the risks were minimal, Halinski said. But there were 57 such attacks during that period, according to the Global Terrorism Database, a listing of every such incident around the world.
Only by a combination of luck, the actions of law enforcement and the occasional ineptitude of the terrorists were there not more deaths in those countries during that time.
The database, maintained by the National Consortium for the Study of Terrorism and Responses to Terrorism at the University of Maryland, College Park, scours news sources for attacks. It defines a terrorist act as one with a political goal, a real threat of violence and perpetrators who aren't part of a government. Data from 2015 isn't available yet.
Other Cases
In addition to well-known plots -- such as the so-called underwear bomber, who detonated explosives on a flight approaching Detroit in 2009 without blowing up the plane, and the gunman who was subdued last August on a French train -- there were dozens more that got less attention:
Left-wing radicals planted 18 fire bombs in Berlin's rail system in 2011.
A bomb with at least 1,100 pounds (500 kilograms) of explosives destroyed a Madrid airport parking garage and damaged a terminal in 2006, killing two.
A gunman in Los Angeles killed a TSA screener and terrorized an airport terminal in 2013.
Police near Philadelphia in 2011 found an improvised explosive device adjacent to tracks for Amtrak and Septa, a commuter railroad.
Those cases don't include plans to bomb subway systems in New York and Washington in recent years because plotters were arrested before actually planting explosives and, as a result, they didn't meet the criteria for inclusion in the database.
NY Subway
One man pleaded guilty and two more were convicted of being part of an al-Qaeda plot in 2009 to plant explosives in backpacks on the New York subway. Then-U.S. Attorney General Eric Holder called the conspiracy "one of the most serious terrorist threats to our nation since September 11, 2001."
A Virginia man who was born in Pakistan was arrested in 2010 and later pleaded guilty to planning to set off bombs in Washington's Metro system.
To be sure, some of the attacks on transportation facilities listed in the database appeared to have had less risk of widespread casualties than the twin bombings in Belgium's capital on March 22, in which suicide bombers aligned with the Islamic State, sometimes known as ISIS, blasted crowds in an airport terminal and a subway station.
For example, out of the 18 fire bombs planted in Berlin's rail system in October 2011, only two ignited. The left-wing group that took credit for the plot issued a statement afterward saying it intended only to disrupt the system, not to harm anyone.
Regional Strife
Similarly, many of the attacks were linked to local regional strife, such as in Ireland or the Basque region of Spain, and weren't the work of terrorists in Islamic State or al-Qaeda-affiliated groups.
Still, some incidents carried out by alleged Islamic terrorists could easily have produced a high death count if all had gone according to plan.
On Dec. 10, 2012, a bomb hidden in a gym bag was left on a busy platform at Bonn's central train station. Its timer triggered before passersby could report it to authorities.
Luckily, it never exploded. The man charged with planting the device, who was also accused of plotting with others to assassinate the leader of an anti-Muslim group, botched its construction, according to authorities. With no one injured, the 2012 case quickly faded from the headlines.
Free Flow
Attacks like these follow a long-standing trend of terrorists being drawn to transportation as a target, and also show how vulnerable it can be, according to analysts.
"It's very accessible," Erin Miller, program manager for the the terrorism database, said in an interview. "It's difficult for law enforcement to provide security for the transportation sector in a way that allows free flow of people."
Transportation targets also are appealing for their symbolism and economic importance, Halinski said.
"Transportation is considered the 100 percent goal of hardcore terrorist groups like ISIS and AQAP," said Halinski, the former TSA official, referring to al-Qaeda in the Arabian Peninsula, an offshoot of the original al-Qaeda group. "They favor those targets quite frankly because if they can complete a successful attack there, it looks like they have defeated the enemy."
Brussels Attack
Halinski said he was particularly worried about a tactic used in the Brussels attack: hitting the lightly protected portion of the terminal where travelers check in before airport screening.
There are precedents for such attacks in the database. Two men identified as Islamic terrorists drove a Jeep into the Glasgow, Scotland, airport terminal and ignited improvised explosives made from gasoline and propane tanks in 2007. The only person killed was one of the terrorists, who died later from burns.
Attacks on transportation are hardly the only way to inflict mass casualties, as demonstrated by the Nov. 13 wave of terror bombings and shootings in Paris that killed 130 people, plus seven terrorists. In that case, Islamic State gunmen shot diners, killed concert goers and detonated suicide bombs across the city.
There have been 2,598 terrorist attacks in the U.S., Canada and Europe since 2000 and only 113 involved transportation facilities. But largely owing to the 2,996 people who died in the Sept. 11 hijackings, 91 percent of the 3,570 deaths in that period were transportation-related.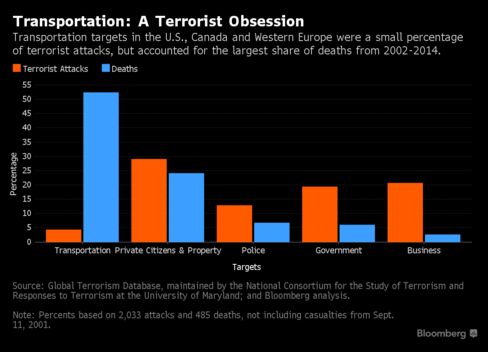 Even without the Sept. 11 toll, deaths in transportation far outweigh other attacks. In the years since 2001 covered by the database, more than half of the 485 terror deaths were linked to transportation even though those attacks represented less than 5 percent of all cases.
Madrid Attacks
The bulk of those deaths were the 191 people who died in simultaneous bombings in Madrid's commuter rail line on March 11, 2004, and 56 deaths on July 7, 2005, in London in coordinated attacks in trains and a bus.
"Going back to 1968 to the dawn of modern terrorism, terrorists have always targeted transportation," Bruce Hoffman, director of Georgetown University's Center for Security Studies, said in an interview.
The massive increase in spending on transportation security prompted by the Sept. 11 attacks doesn't seem to have stemmed the desire to hit those type of targets, Hoffman said.
"To me, this is very worrisome that they are completely undeterred and they are constantly searching for ways to obviate or to overcome or defeat those defenses," Hoffman said. "I suppose we should be surprised that we don't see more of it."