And now Wall Street is making a $1 billion bet on Uber's lease business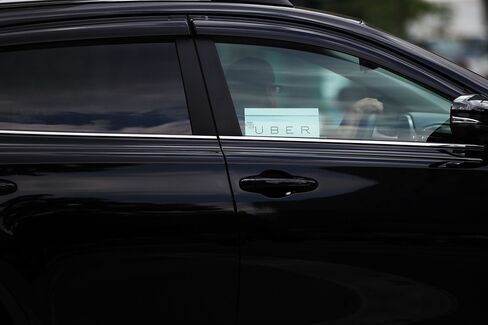 In its relentless pursuit for growth, Uber needs new drivers, and many of those drivers need cars. To help them get started, Uber has been offering short-term leases since July through a wholly owned Delaware-based subsidiary called Xchange Leasing, LLC. It partners with auto dealerships, advertises to drivers, manages risk, and even pays repo men to chase down cars whose drivers aren't making their payments.
Xchange may be key to Uber's continued expansion as it tangles with Lyft in the U.S. and a bevy of competitors abroad. Uber announced a partnership with Toyota last week to finance even more cars. This year, Uber said its financing and discount programs, which include Xchange, will put more than 100,000 drivers on the road. That requires dipping into the vast pool of people with bad or no credit.
In a deal led by Goldman Sachs, Xchange received a $1 billion credit facility to fund new car leases, according to a person familiar with the matter. The deal will help Uber grow its U.S. subprime auto leasing business and it will give many of the world's biggest financial institutions exposure to the company's auto leases. The credit facility is basically a line of credit that Xchange can use to lease out cars to Uber drivers.
Xchange caters to people who have been rejected by other lenders. The program is run by Andrew Chapin, who pitched it to Uber Chief Executive Officer Travis Kalanick in 2012. Before joining Uber, Chapin was a Goldman Sachs commodities trader. He oversees all of Uber's auto-financing efforts, including a partnership with Enterprise Rent-A-Car and vehicle-purchase discounts. "I want the driver to get an option that is best for them," Chapin said. "I try to provide a menu of options that the industry thus far has not provided."
Xchange isn't intended to be a moneymaker, said an Uber spokesman. But it has plenty of critics who accuse the company of looting the pockets of its drivers. The program is plagued by a lot of questions that surround other subprime lending programs aimed at risky borrowers with bad credit. Is Xchange really offering good deals? Does it ensnare drivers with commitments they can't meet? "You can buy the car for what they're charging you in weekly payments," said Greg McBride, chief financial analyst at personal-finance website Bankrate.com. But for many drivers who sign up with Xchange, it's their only option.
The terms of an Xchange lease run 28 pages. Drivers pay a $250 upfront deposit and then make weekly payments to Uber over the course of the three-year life of the lease. As the video promoting the arrangement puts it: "The best part: Payments are automatically deducted from your Uber earnings." At the end of three years, Uber keeps the $250 deposit to release the drivers from the lease. If they want to buy it, they'll need to fork over the residual value of the car, which could run many thousands of dollars. Uber declined to provide an average figure.
Uber's lease is more flexible than most subprime leases, the company said. After the first 30 days of the lease, a driver can return the car to Uber with two weeks notice, without any additional fees, apart from the payments they owe and the $250 they paid up front. Many other leases also charge drivers by the mile if they exceed a certain mileage threshold. Not Xchange, though; Uber wants to incentivize drivers to keep logging miles.