Management problems at a shrine to management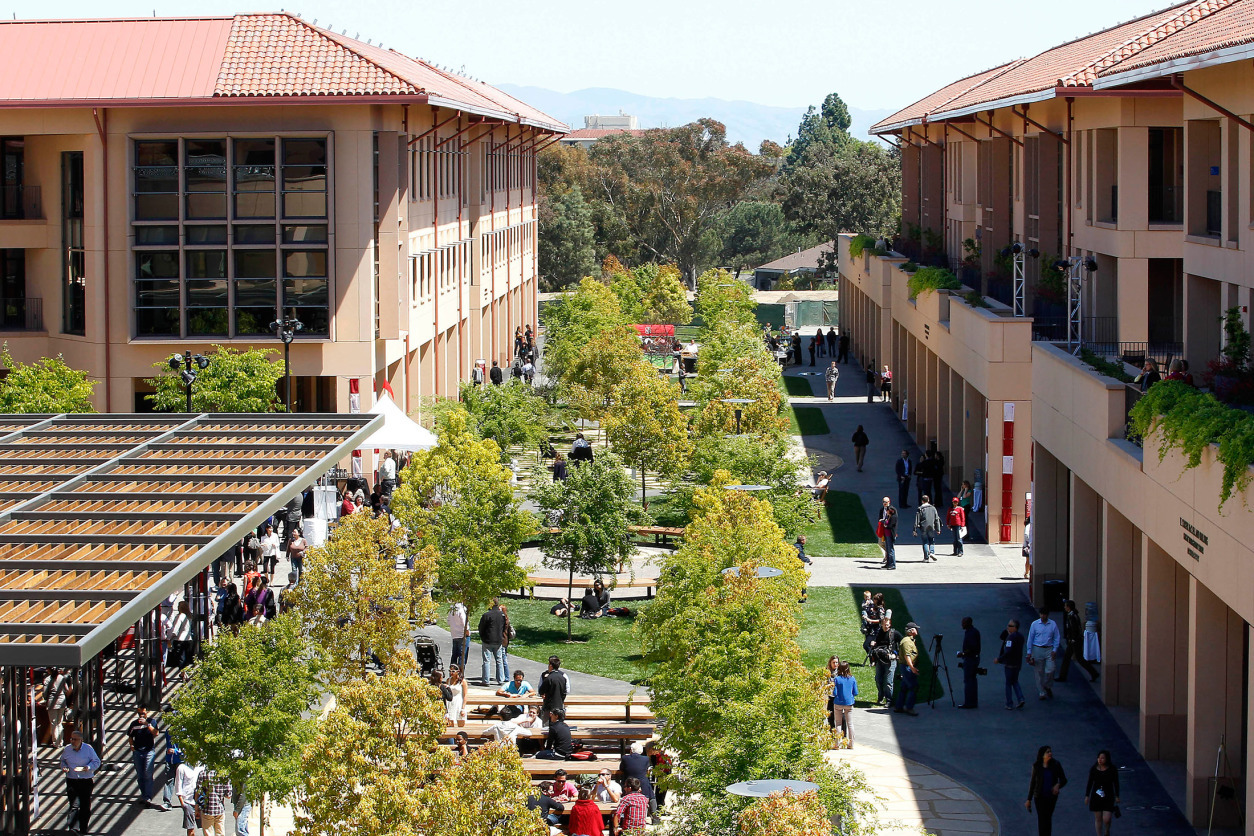 Attendees mingle during the grand opening of the Knight Management Center at Stanford Graduate School of Business in 2011.
In April 2011, Stanford's Graduate School of Business threw a party at its brand-new $345 million campus in Palo Alto. Thousands of students, alumni, and staff swayed to gospel singers and the Stanford band, sampled tofu banh mi on bamboo plates, and took cell phone-guided tours of the eight wood-and-glass buildings spread over a dozen palm tree-dotted acres.
The day's keynote, "What it takes to get to the top," featured a debate between two of the school's best-known professors. Joel Peterson, who's also chairman of JetBlue Airways, told a packed auditorium of 800 that trust and respect for others are essential in leadership; intimidation and manipulation always fail in the end. Jeffrey Pfeffer, who's taught a popular class on power at the school for 36 years, said odds are you can't be nice, honest, fair, and also successful; the path to power is paved with ruthless self-promotion.
Although begun under his predecessor (with a $105 million gift from Nike co-founder and alum Phil Knight), the new campus reflected the ambition of the school's visionary dean, Garth Saloner. He's transformed the school, known by its acronym, GSB, into a hub of management innovation worldwide. What the dean called an "inflection point" at the campus's inauguration has proved true: The school trains executives in Bangalore, Beijing, London, New York, Santiago, and São Paulo. It steals top academics from rival Harvard, boasts the world's lowest admission rate, 7 percent, and the highest median base salary for MBA graduates, $125,000 a year. Yet one of the nation's top-ranked management schools is struggling with a management problem of its own.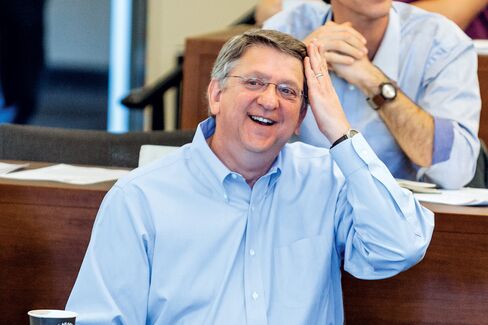 GSB staffers describe an administration ruled by fear
On Sept. 14, Saloner, 60, shocked the Stanford community when he announced he was resigning his post at the end of the school year. (He will remain at Stanford as a tenured business professor.) A South African-born economist, he's renowned for his work on how Internet network effects provided early entrants in a tech market with insurmountable advantages, and he was instrumental in persuading the U.S. Department of Justice to sue Microsoft for antitrust violations in the 1990s. He's led a substantial overhaul of the school's curriculum, emphasizing global studies and critical-thinking skills, and reeled in the GSB's biggest gift ever, a $150 million grant to fight poverty by educating local entrepreneurs in places such as Ghana. His cryptic resignation flashed on students' iPhones just as the first-years took part in a mandatory orientation session on the Stanford code of conduct.
Saloner's statement said only that he didn't want "a baseless and protracted lawsuit related to a contentious divorce between a current and former member of our faculty" to harm the school's reputation. Later that day, an article published by Poets & Quants, a website that covers business schools, broke the news of a 17-month-old discrimination lawsuit against Saloner and the university. Filed by a former professor, James Phills, 55, the suit alleges that Saloner, a widower, conspired with the dean's lover, Deborah Gruenfeld—Phills's estranged wife and also a GSB professor—to push Phills out of his GSB job and kick him out of his campus home. The claims, pending in Santa Clara County Superior Court in San Jose, turn on whether Saloner, after informing Stanford Provost John Etchemendy of his relationship with Gruenfeld, 53, properly recused himself from any decisions regarding the separated couple. Also at issue is whether Etchemendy made sure Saloner took no part in decisions relating to Phills and Gruenfeld, in accordance with state law and school policy. The suit claims Phills, who is black, has suffered "a hostile workplace and ongoing retaliation by Saloner" and faced discrimination based on his marital status, race, and gender.
The suit has thrust the GSB's personnel practices into public view. In a Facebook exchange between Gruenfeld and the dean in November 2012, shortly after they began seeing each other, Gruenfeld asked Saloner about Etchemendy's reaction to learning of their romance. Phills, who got the messages by using his wife's Facebook password, filed them as evidence in divorce-court proceedings. Judges in both cases have denied requests by Gruenfeld, Saloner, and Stanford to keep personal texts and e-mails private.
Gruenfeld: "So I guess we aren't sneaking out tonight.
Gruenfeld: "Dunno. Just can't let go of it. Oh—speaking of blow by blow—what did Etch say exactly?…
"Saloner: "He basically ignored what I said about the two of us and, not in these words, that he trusts me to make any decisions regarding Jim [Phills]. That is his style. It is almost as though he pretends he hasn't heard, although of course he has. I think it is his way of saying, 'you have done what the policy says you have to do, I appreciate it, but the policy wasn't written with you/this in mind and so I'm respecting your privacy and ignoring it.' 
"Gruenfeld: "Love that. So discreet and respectful."Saloner: "He is a class act all around. He never ever disappoints me in the way he approaches things.
"Saloner and Stanford deny Phills's allegations of discrimination and say they upheld all laws and university policies. Gruenfeld, Phills, and Etchemendy declined to comment for this article. Stanford, in a written statement, says Saloner properly recused himself from decision-making about the couple and that the university terminated Phills this year because he chose not to return from leave in favor of more lucrative employment at Apple. Phills was treated "fairly and equitably," Stanford says, and the GSB, under Saloner, "continues to perform at exceptionally high levels.
"At the business school, reaction to Saloner's resignation, and the love-hate triangle that engulfed him, is divided. Many faculty members are disappointed to see Saloner go. Since his appointment in 2009, he's expanded the faculty by 15 tenured professors, to 124. Many like that he consolidated programs, tightening the purse strings in the dean's office so he could free up money from the school's $220 million annual budget for recruiting and research. "The prevailing mood is disappointment and dismay that we're having a transition when we have so much momentum," says finance professor Peter DeMarzo.
Saloner has fewer admirers among the school's 440-person nonfaculty staff, the people who make the GSB run. To many of them, as well as a dozen or so bitter critics whom he fired or drove out over the years, the dean is the embodiment of Pfeffer's cold-blooded theory. They describe an administration ruled by fear, with a dean who browbeats subordinates who challenge him, defunds programs that don't fit his agenda, and drums out longtime managers on the thinnest of pretexts. These detractors exult at Saloner's fall—at what Peterson described in the debate against Pfeffer as the inexorable self-destruction visited upon ruthless leaders. Says Sharon Hoffman, a former associate dean who ran the MBA program from 2001 until she was demoted and quit in 2012: "When Garth came in, it went from morning in America to Soviet Russia."
Saloner, with jowly cheeks, frameless glasses, and a full head of graying brown hair, is the rare Silicon Valley stalwart who wears blue blazers and freshly ironed shirts. His voice still carries a faint South African ring from his Johannesburg childhood. Colleagues describe him as a fierce intellectual fighter and a reluctant listener. "Get your flak jacket on," says Bethany Coates, a GSB assistant dean who's worked for Saloner for six years and finds his combative manner highly effective.
Saloner earned an MBA at the University of the Witwatersrand in Johannesburg and his doctorate in economics at Stanford in 1982. He taught at MIT for eight years, then returned to the GSB in 1990 and never left. Saloner and his wife, Marlene, raised three daughters; all three attended Stanford, two earned MBAs there.
An expert on game theory and mathematical modeling, Saloner did some of the earliest work showing how the effects of computer networks can lock in customers. That's because first movers often establish technical standards, such as operating-system software, to which consumers and developers become attached. Saloner's ideas helped Netscape's lawyer Gary Reback finally persuade federal prosecutors that Microsoft's use of its clout in operating systems to tie computer makers to its browser software was unfair to competitors. Saloner, a charismatic lecturer with a knack for explaining arcane material, has won the GSB's Distinguished Teaching Award twice, one of only two professors to do so.
Saloner talking with students in 2011.
Under Saloner, the GSB only grew in its role as a finishing school for billionaires in training. Every year dozens of MBA students, nurtured by professors and thousands of alumni in nearby tech companies and venture capital firms, start companies. Mary Barra, chief executive officer of General Motors, was in the class of 1990, and EBay's first full-time employee, Jeffrey Skoll, got his Stanford MBA in 1995. Former Microsoft CEO Steve Ballmer dropped out of the GSB in 1980 to become the first business manager for his dropout friend from Harvard, Bill Gates.
In the inner sanctum, Saloner scares people, staff members say. A former program executive director, Kriss Deiglmeier, says he shouted her down at a meeting in front of more than a dozen colleagues, even after the budget at issue had been approved by his office. Shortly after his appointment, he fired Erica Richter, the director of alumni education, who'd recently recovered from cancer. She'd worked for the school for 14 years and was eligible for retirement in eight months. "I asked Garth if there were any other jobs I could do to keep my health insurance until I retired, and he said, 'Nope, nope. I'm going in a different direction,' " Richter says. (A school official close to the dean but not authorized to speak by the school said Saloner didn't know about Richter's health at the time.)
Early on, Saloner pushed Sharon Hoffman, the director of the MBA program, to crack down on the GSB's party culture. According to a former associate dean not authorized to speak by Stanford, drunken GSB students on a class trip to Las Vegas were led off a plane before takeoff. This person also says a pilot on another trip threatened to divert in the air if they didn't settle down. "We became rules girls," Hoffman says, nixing midweek ski trips and the rescheduling of exams to accommodate Ultimate Frisbee tournaments in Florida. After angry students lashed out at Saloner at a town hall meeting, he called Hoffman into his office and, she says, furiously accused the associate dean of setting him up. She'd warned Saloner's top deputy what to expect, but he never told the boss for fear of angering him, Hoffman says. " 'You have a new charter for the year,' " Saloner told her later. " 'From now on we say yes to students!' "
In a written statement, Saloner said, "I've been very ambitious and passionate about advancing the mission of the school. ... I strongly believe in getting the whole team aligned behind a focused vision. I have to acknowledge that, although it was definitely not my intention, the process of achieving alignment was sometimes harder on people than I realized."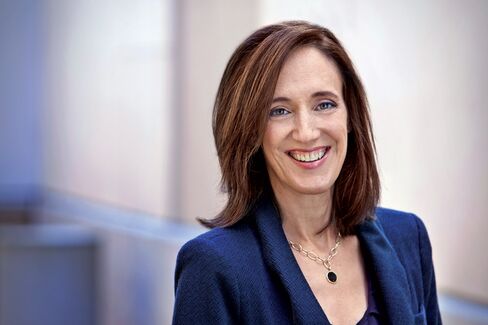 Gruenfeld teaches an "Acting with Power" class.
Gruenfeld goes by Deb and has a wide smile and shoulder-length brown hair. A social psychologist with a doctorate from the University of Illinois, she's one of the world's leading experts on the psychology of power. She's shown how it corrupts in unintended ways, emboldening people to act heedlessly on their desires. She teaches a course called "Acting with Power," which uses theatrical techniques to help students "who have trouble 'playing' authoritative roles."
Phills, a heavyweight wrestling champion at Harvard who competed into his 40s, has a soft, freckly face, the body of a linebacker, and the warmth of a teddy bear, friends say. He earned his Ph.D. from Harvard in organizational behavior and went on to teach at the Yale School of Management.
The two met at a conference in 1994. Phills was at Yale, and Gruenfeld was teaching at Northwestern's Kellogg School of Management. They became a couple five years later. Gruenfeld avoided "marriage material" during the first 12 years of her academic career, worried a husband "would be the end of my independent thinking, my independent self," she wrote in a 2011 e-mail to her life coach, while trying to save her marriage. The e-mail was filed as evidence in the divorce case.
Gruenfeld and Phills married in 1999. In the 2011 e-mails to her life coach, she wrote that her fears came true. "I backed away from work, fearing that my continued successes would intimidate him and he would be resentful. … I am lost; I have made Jim my God and he has nothing to offer."
The couple moved to Stanford a year into their marriage and bought a house on campus with a low-interest loan from the university tied to Gruenfeld's job. They had two daughters while there. A popular teacher and prolific writer, Gruenfeld was appointed to faculty committees that revamped the school's curriculum and selected Saloner to be dean. She became friends with Facebook Chief Operating Officer Sheryl Sandberg and joined the Lean In board.
Phills, meanwhile, became a faculty director of the GSB's Center for Social Innovation, which ran management training programs for government and nonprofit leaders. He was co-director of the center for a decade, co-founded and edited the field's leading journal, and designed and taught six training courses. "Jim bridged the chasm for me between the social sector and business," says Diane Solinger, head of employee social responsibility at Google, who took Phills's executive-education course. "His training was one of the most formative things I've done in my career. I still use the framework with my team."
The Center for Social Innovation attracted lots of students and alumni support, but Saloner thought the social-impact focus did not directly serve business students and faculty, says Deiglmeier, the center's executive director from 2004 until last year, when she left to become CEO of Tides Foundation. In 2012, Saloner gutted the center's budget, and Phills lost a big chunk of his teaching income when the center stopped doing executive training sessions. In May of that year, four months before Saloner and Gruenfeld started seeing each other, Phills took a leave from Stanford to teach management at Apple. The GSB restarted the training program later under a different professor, which Phills alleges was part of the Saloner-Gruenfeld conspiracy to keep him from returning.
Gruenfeld left Phills in June 2012. That same month, Saloner's wife, Marlene, died after living with cancer for more than a decade. Two months later the dean, in an e-mail to Gruenfeld about one of her committee assignments, mentioned he was doing better and hadn't forgotten about Gruenfeld's suggestion for yoga. "Hope to be in (mental) shape to reach out soon," Saloner signed off.
A few weeks later he asked her out for coffee, and they met for a walk. "Thanks for this morning. It felt really good spending that time with you," the dean e-mailed afterward. After a few more dates, they drew closer—close enough, they agreed, that Saloner ought to tell the provost.
He e-mailed Etchemendy on Halloween morning. Saloner disclosed he'd seen Gruenfeld "a few times socially," and though he wasn't sure where the relationship was heading, he wanted the provost to know "out of abundance of caution." Gruenfeld was on leave and didn't have any pressing employment issues, but "Jim is a different matter." Phills was due to decide soon whether to come back to Stanford full time. The negotiations would be handled by Saloner's deputies. "It is possible that I will be asked to weigh in at some point, and at a minimum will certainly be asked to ratify their recommendations," the dean said. "I propose to ask you to approve our thinking on whatever we decide (and perhaps to weigh in more substantively, depending on what we recommend)." The provost responded two hours later: "I am absolutely supportive of everything you decide with regards to Jim. I'd be very sorry to lose Deb." In his deposition, Etchemendy said: "Remember, Jim has his appointment because we were recruiting Deb. So, you know, if we lost Jim, it would not have been a tragedy. Losing Deb, on the other hand, would be."
Saloner and Gruenfeld kissed for the first time a few days later, according to Gruenfeld's deposition. On Nov. 4 the GSB's senior assistant dean notified Phills that, with Gruenfeld not living with him, Phills needed to repay about $750,000 that Stanford had lent the couple years earlier. "It would be cleanest if you jointly sold the house," the assistant dean advised. Phills asked if he could get an exception to remain in the house with his daughters and elderly mother. The assistant dean, after conferring with Saloner, said no.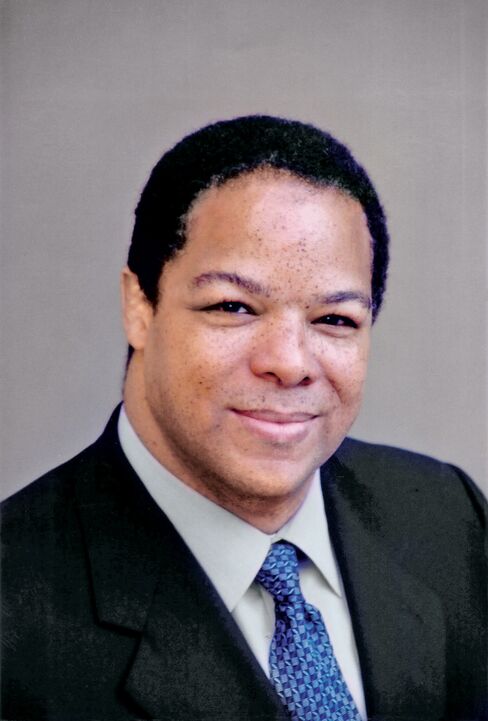 Phills claims he suffered "ongoing retaliation."
Phills followed his wife's deepening relationship with Saloner from the beginning, reading her e-mail and Facebook accounts with passwords he had acquired during their marriage. Gruenfeld knew he was spying on her, but her efforts to block him were unsuccessful. When she tried, he sent her taunting messages that said he could still see her communications, Gruenfeld said in a divorce-court filing. (She would later state in the filing that Phills "gave himself access to my devices by owning them, registering them in his name, buying special applications, and using iCloud.") Saloner set up a new Facebook account to chat with Gruenfeld under the pseudonym Jeni Gee.
Phills blames the bitter turn in the divorce negotiations on Saloner, citing a Facebook chat on the eve of a key divorce negotiation. Gruenfeld: "Maybe he's staying at Apple.
"Saloner: "Let's hope. We deserve something good tomorrow. We've earned it.
 …"Gruenfeld: "Sadly, deserving has not bought me much so far.
"Saloner: "The universe owes us. Big time.
"Gruenfeld: "I agree. Maybe we're turning a corner on that."
In another exchange on Facebook about the divorce negotiations, Saloner told Gruenfeld that "you and your advisers (therapist and lawyer) are approaching this too much as women (ouch!) You are being rational and generous." He said Gruenfeld should express her anger at Phills to make her a less predictable and rational adversary. "He would pout, posture and do the elephant seal thing. But it would push him back like a right to the jaw.
"The divorce got nasty about four months after Gruenfeld and Saloner started dating, according to a court filing by Gruenfeld. When she was dropping off the kids in Phills's driveway one afternoon, Phills came charging out of the house, insisting he needed to speak to her. Gruenfeld resisted, and he briefly held on to her car door to prevent her from leaving. That night, Saloner took her to file a report with the Stanford police. She obtained a temporary restraining order against Phills a few days later, claiming his online spying was terrorizing her and that he drank too much, owned guns, and posed a danger to Gruenfeld and their daughters. Phills denies the allegations. Nine months later the judge, based on an evaluator's report, dismissed the order as unwarranted.
Saloner had other adversaries to contend with. When Deiglmeier and two other women left Stanford early last year, Phills threw them a goodbye party at his Stanford home. The margaritas, and the war stories, flowed. What emerged several weeks later was a letter to the provost endorsed by 46 current and former GSB employees, about half of whom still worked at the school. It complained of a "hostile work environment—especially to women and individuals over 40—ruled by personal agendas, favoritism and fear." The letter urged the provost not to reappoint Saloner to a second five-year term, and noted his romance with a subordinate, who was married to another subordinate, set a "poor example" for students and was "stereotypical of the behavior of many discredited CEOs.
"Etchemendy met with representatives of the signatories in the spring of 2014 but told them he'd reappointed Saloner as dean, though it hadn't been announced. Stanford hired outside lawyers to look into the letter's claims. They found no evidence of discrimination but noted "a persistent underlying theme" of tension between GSB staff and the school's leadership. The dean was perceived as "arrogant and disrespectful," with questions "legitimately raised" about his fairness and communication style. Some comments in employee surveys from 2013 and 2014 were "consistent" with these complaints, they said. In a written statement, Stanford said the GSB has been addressing the investigators' suggestions.
The dean got a new term in office. Phills got a lawyer and sued.
Gruenfeld and Saloner are still together. Phills's discrimination suit is mired in the discovery phase, with both sides demanding documents and Stanford and Saloner trying desperately to preserve a modicum of privacy for the dean's and Gruenfeld's personal communications. The divorce, too, drags on. Gruenfeld is supervising Ph.D. students and teaching. Saloner has no plans to step down before spring. Phills still lives in the couple's campus home, fighting Stanford over the loans. He teaches at Apple, where, thanks to stock options, he has quadrupled what he made at Stanford, earning more than $1 million a year for the past few years.
In a Facebook chat between Gruenfeld and the dean, Saloner imagined a climactic resolution to the cinematic version of their story, like the one in the 1976 Japanese-French film In the Realm of the Senses. It ends with the heroine severing the penis of her lover, whom she has just suffocated during frenzied sex. Saloner's rewrite for Phills included just six words: "Knife. Penis. Town Square. Got it." (Town Square is the outdoor commons area on the GSB's campus.)
Gruenfeld demurred, suggesting her own vision of how their triangle should end. "I'm thinking more like you and I stroll off into the sunset looking gaga, and he has to live with a mountain of shame and regret."
Faculty members are debating whether the Saloner affair will tarnish the GSB. Is this the inescapable takedown of a man and institution that lost their way, as Peterson would predict? Or is Pfeffer right, that power is won and sustained through baser instincts? Peterson declined to comment, except to say "all three people involved are terrific, and this makes me so sad." Pfeffer says the GSB will bounce back; institutions are bigger than single individuals.
"The only difference between Stanford and Google is we have a higher profit margin," says Pfeffer. "This school is a success story."