Chinese President Xi Jinping seeks a 'tectonic' shakeup of the world's largest fighting force
With a series of edicts, speeches and martial ceremonies, President Xi Jinping has over the past six months unveiled China's biggest military overhaul since the aftermath of the Korean War.
The plan seeks to transform the 2.3-million-member People's Liberation Army, which features 21st-century hardware but an outdated, Soviet-inspired command structure, into a fighting force capable of winning a modern war. China is shifting from a "large country to a large and powerful one," Xi explained in November. The restructuring will be a major focus of the country's new defense budget, which will be announced Saturday as the annual National People's Congress gets under way in Beijing.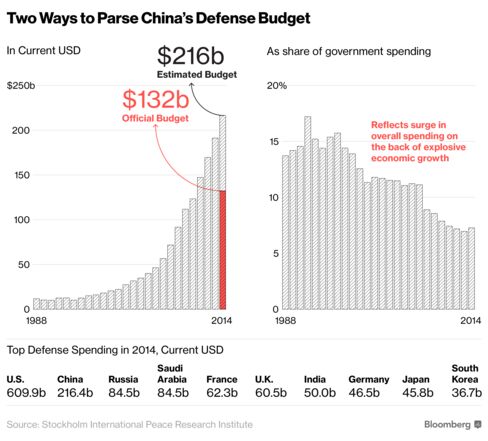 "A lot of countries do military reforms, but they are rarely as tectonic as what we are seeing in China," said Dean Cheng, a senior research fellow at the Heritage Foundation in Washington who specializes in military capabilities. "Any single one of these elements constitutes a bureaucratic overhaul of the first order."
Here are the key elements of Xi's plan:
Fewer Singers, More Sailors
The first piece of the overhaul — announced by Xi during a grand military parade through Tiananmen Square on Sept. 3 — calls for eliminating 300,000 PLA personnel by 2017. While Xi presented the cutbacks as proof of China's commitment to peace, they'll largely target non-combat personnel and should make the country's forces more focused and efficient.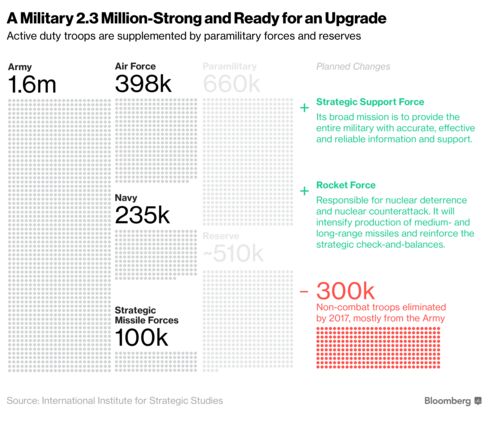 Out are military cooks, hospital workers, journalists and some 10,000 members of the PLA's famed troops of singers and dancers. Even so, China's military will remain by far the world's largest, with more than 600,000 more active service members than the U.S., according to estimates by the International Institute for Strategic Studies.
The reorganization will also chip away at the army's dominance as modern mechanized warfare requires far fewer conventional troops. China needs more pilots, sailors, commandos and drone operators to achieve ambitions of projecting force farther afield.
Who's the Boss?
Advanced military actions such as intercepting rival aircraft, carrying out drone strikes and using special forces to extract hostages, demand the sort of close collaboration China's army-centric military has lacked. Xi intends to fix that by reorganizing the armed forces into five branches under a joint-command structure modeled after that of the U.S.
In addition to the existing army, PLA Air Force and PLA Navy, a new Rocket Force will be responsible for China's nuclear arsenal and conventional missiles while a Strategic Support Force will oversee cyberwarfare and protect China's financial system from attack.
Redrawing the Map
As part of the move toward a unified command, China consolidated its seven military regions into five "Theater Commands" or "Battle Zones," with each service reporting to a single commander, a move first reported by Bloomberg News in September. How these zones will function remains unclear.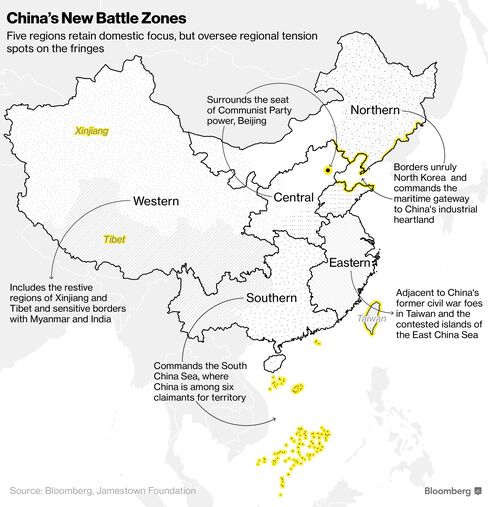 "A lot of energy will be spent figuring out who commands who; who supports who; and most importantly who controls which budgets?" said Felix Chang, a senior fellow at the Foreign Policy Research Institute in Philadelphia.
Many will be watching to see how far beyond China's borders the new zones reach and how the revamped military map will shape PLA activities in regional hotspots such as the South China Sea.
Consolidating Power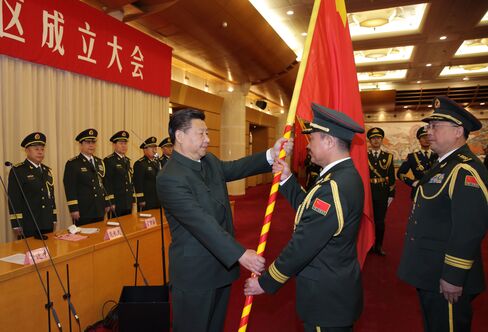 Xi Jinping confers military flags on the five newly-established theater commands of the PLA.
Xi is also centralizing his authority by breaking up the military's massive, back-office bureaucracy. Four existing general departments will be divided into 15 smaller units responsible for everything from training and logistics to punishing corrupt officers and ensuring soldiers get sufficient education in Marxist ideology. They'll all report directly to the Central Military Commission, a Communist Party body led by Xi.
"It may be that this is a means for Xi to increase his support within the PLA, as all these new general officer billets will be filled with his people," said Cheng, of the Heritage Foundation.
Success of the reform plan will depend heavily on Xi's capacity to overcome entrenched interests in the PLA, which has long enjoyed a privileged status as the guarantor of Communist Party rule. In a sign of the army's continued influence, all five of the commanders chosen for the new battle zones hail from the ground forces.
One thing Xi has made clear: he has no plans to transfer control over the PLA to the government from the party, something foreign military experts say is needed to professionalize the services.